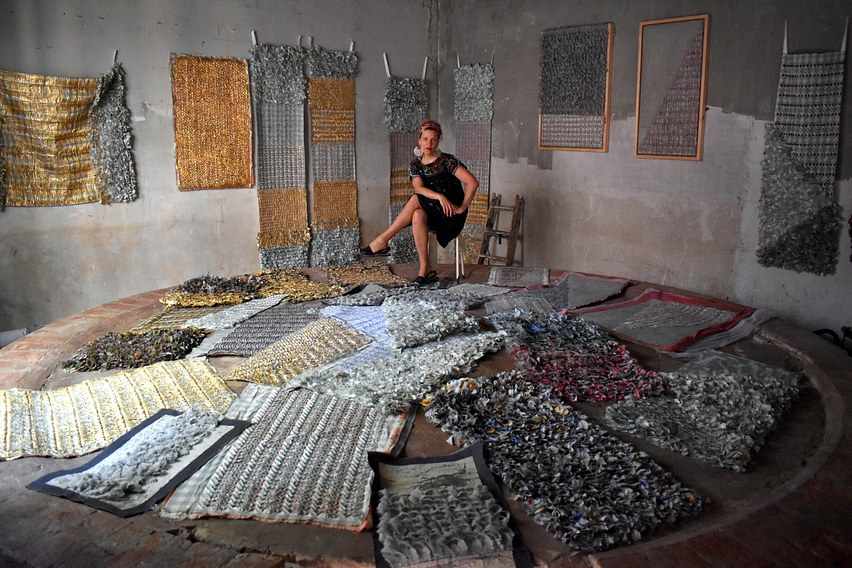 Artist's Statement- English
Aby Mackie is a Barcelona-based artist whose wall-based sculptures are unified through a materials-led methodology combining storytelling and social commentary. Recurring themes can be identified as materialism, consumerism, value and memory. Each series investigates the interconnectedness of these themes through the language of materials.
Often in Barcelona, the contents of entire homes are either thrown onto the streets or auctioned off at Encants Vells market upon the death of a final occupant. The creation of Mackie's work is driven by the selection and repurposing of objects and textiles from these two practices in order to explore ongoing cultural concerns. This roots Mackie's artistic process in the everyday existence of the unrecognised, uncelebrated, unknown lives of Barcelona's residents.
Mackie is captivated by the unobvious silent material witnesses to a life lived; a worn bed sheet, a stained tablecloth, a moth-eaten gown. Such artefacts bare the marks and physicality of human nature, possessing a poetic power. They are simultaneously valuable in their uniqueness and worthless in their deteriorated, decontextualized state. Each piece created from these objects is therefore both the artist's personal expression of the hidden memories embedded in the original items, and a way to explore the recycling and re-contextualising of meaning and value in contemporary society. The experience and memories of others, imagined and real, fuse seamlessly with Mackie's own through the salvation, destruction and discordant juxtaposition of materials.
A rich mix of influences can be seen through Mackie's work in terms of concept (the found object sculpture of Picasso, Miro, Tapies, Grau-Garriga), techniques and materials (Anatsui) and subject matter and aesthetic sense (Basquiat, Schwarz), inviting the viewer to create their own connections and interpretations and encouraging a personal storytelling through materiality.
Declaración del Artista- Español
Aby Mackie es una artista radicada en Barcelona. Sus esculturas de pared comparten una metodología inspirada en la materia, combinando la narración con el comentario social. Entre los temas recurrentes se encuentran el materialismo, el consumismo, el valor y la memoria. Cada serie investiga las interconexiones entre estos temas a través del lenguaje de la materia.
Suele pasar a Barcelona que casas enteras esten vaciadas y su contenido tirado a la calle o vendido en las subastas del mercado Encants Vells, en cuanto desaparece su último inquilino. La creación de la obra de Mackie está motivada por la selección y re-destinación de objetos y tejidos dentro de una investigación de cuestiones culturales contemporáneos. El proceso artístico de Mackie tiene raíz en la existencia cotidiana de los residentes no reconocidos, no celebrados y desconocidos de Barcelona.
Mackie está fascinada por los testigos materiales, silenciosos y ordinarios, de una vida; una cama usada, un mantel manchado, un vestido desgastado. Artefactos que llevan las marcas y la cualidad física de la naturaleza humana, con un poder poético, simultáneamente valiosos en su carácter único y sin valor en su estado estropeado, descontextualizado.
Cada pieza creada a partir de estos objetos representa a la vez la expresión personal del artista de las memorias escondidas e incrustadas en los objetos originales, y una manera de investigar el reciclaje y re-contextualización del significado y del valor en la sociedad contemporánea. La experiencia y las memorias de los demás, imaginadas y reales, se fusionan sin costuras con la de Mackie, a través de la salvación, la destrucción y la yuxtaposición discordante de materiales.
Una rica mezcla de influencias se aprecia en toda la obra de Mackie con respecto al concepto (la escultura del objeto de Picasso, Miro, Tapiès, Grau-Garriga), las técnicas y materias (Anatsui) y los temas y sentido estético (Basquiat, Schwarz), invitando al observador crear sus propias conexiones e interpretaciones, animando a una narración personal a través de la materia.